Wed Dec 21 2022
HEALTHY CHRISTMAS TREATS AND SNACKS FOR KIDS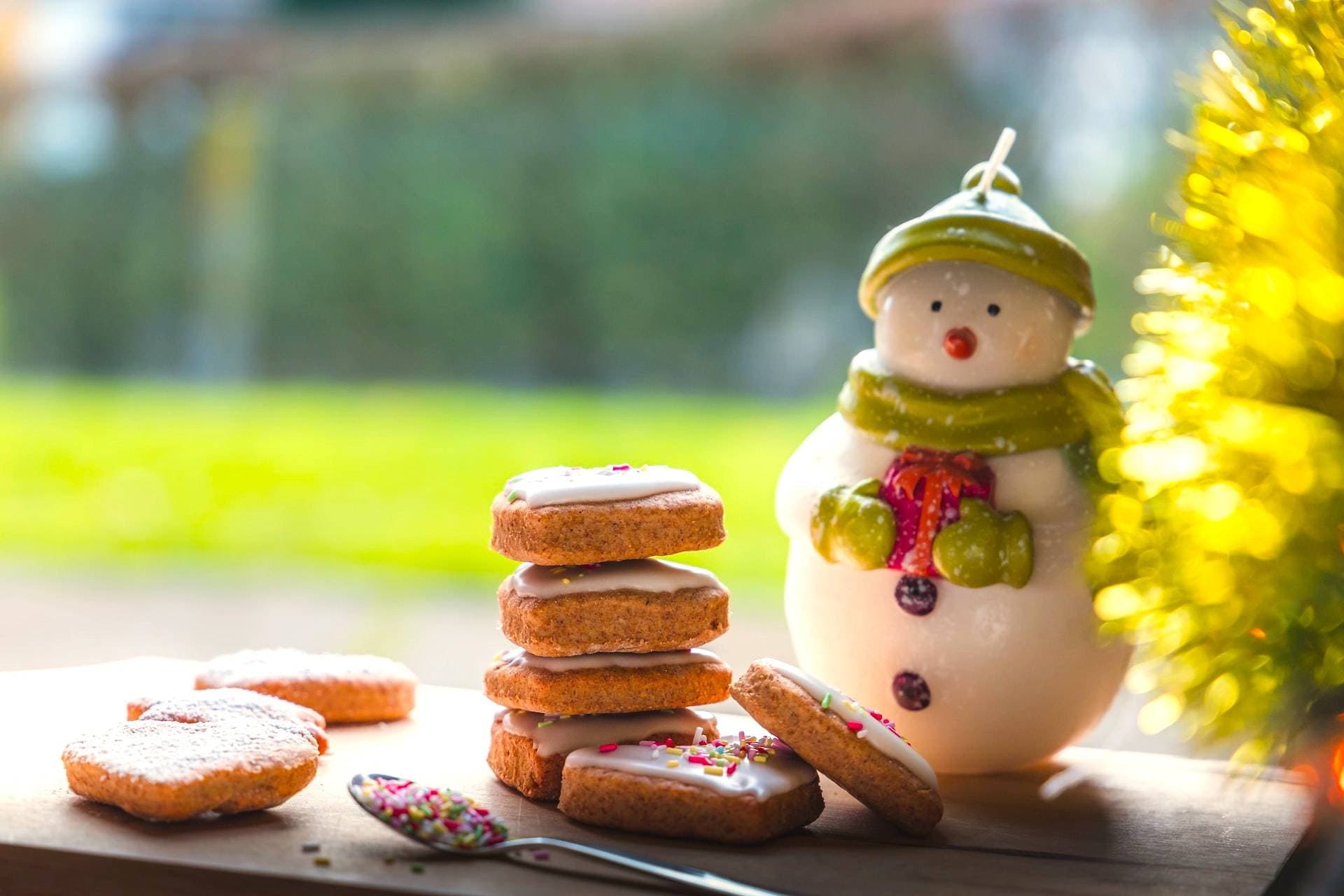 The Christmas season means the kitchen is open and there's food all around the house to make the season bright for guests, busy elves and Santa's little helpers alike. Mix traditional flavors like peppermint, gingerbread, cinnamon, and chocolate with bright holiday colors for these healthy Christmas treats and snacks for kids. They'll have everyone rockin' around the Christmas tree!
Bring us some chia pudding
You don't necessarily think of chia when you think of Christmas, but its mild nutty flavor actually matches up well with lots of Christmas snacks. With loads of fiber and protein packed into each ounce, chia helps satisfy hunger and keep blood sugar levels steady. It's also a great source of calcium.
Chia seeds absorb liquid and fill up almost like a gel. You can make a simple chia pudding with almond milk and top it with dark chocolate chips or fresh fruit. If the kids want their holiday dose of eggnog, here's an easy eggnog chia pudding recipe: Stir half a cup of chia seeds into 2 cups of (nonalcoholic) eggnog, let it rest for 8-10 minutes, then stir it again and refrigerate for two hours. When you take it out, stir it and serve it up in smaller bowls with a dollop of whipped cream and a sprinkle of cinnamon or nutmeg on top! Chia is also a great topping for yogurt and works well when blended into a quick smoothie.
It's beginning to look a lot like Christmas (Parfait)
Dish out a tasty layered Christmas Parfait with this superfood cereal recipe from LiveKuna: Whip up heavy cream and flavor it with cinnamon and nutmeg, then layer the whipped cream in a parfait glass with quartered strawberries and Banana Superfood Cereal. (You can try this with the Apples & Cinnamon  or Chocolate Superfood Cereal, too! All of the LiveKuna cereals are rich in protein and fiber with low sodium, low sugar and no cholesterol.) Decorate the top of your parfaits with a sprinkle of shredded coconut for a beautiful and tasty snow effect!
Santa Claus is coming to town
Jello or fruit-based "Santa hats" are a do-it-yourself snack classic. Layer a red jello cup with a little whipped cream and cut the top off a strawberry and use the pointy end to make the hat on top! Prefer a Santa fruit kabob? Try a slice of banana, a little layer of cream cheese and a sliced strawberry hat top with a tiny bit of cream cheese on top. Another option is the slice of banana, some melted white chocolate, a strawberry top and a slightly melted white chocolate chip on top.
Feeling more like a grinch this holiday season? The song may say he's a bad banana, but hey, bananas are healthy snacks! Grab some seedless green grapes, thin banana slices, hulled strawberries and more tiny marshmallows. Pop them on a toothpick or skewer in that order, and watch your kids go to town. Your heart may grow three sizes!
Orange ya glad it's Christmas?
The tradition of getting an orange in your stocking may just celebrate the season of giving, or it may represent a gift of gold from old St. Nick. Either way, they're a delicious healthy snack. If you happen to find a few extra oranges lying around after someone stuffs the stockings, try orange slices dipped halfway in melted dark or white chocolate and dusted with a sprinkling of chia seeds.
Through the candy cane forest
Tie in chocolate and the classic taste of candy canes with chocolate peppermint dip! You'll use one part softened cream cheese, one part melted dark chocolate and one part marshmallow fluff and some candy canes. Whip the cream cheese until it's creamy, add the fluff and whip until it's smooth, then stir in the melted chocolate with a spoon until it's fully mixed. Top with crushed candy canes and serve with LiveKuna Artisan Veggie Chips or your favorite Cassava Chips.
All I want for Christmas is … cookies!
For healthy gingerbread cookies, try using unsweetened applesauce and dark molasses. Be sure to replace the all-purpose flour in your recipe with Quinoa Flour from LiveKuna. It's mild, nutty taste will blend well with the ginger, cinnamon, allspice and cloves. 
Gluten-free chocolate chip cookies are also easy to make with Quinoa Flour. Use browned butter, a little cream cheese and just the egg yolks — no egg whites — with your sugar and brown sugar, vanilla extract, baking soda and chocolate chips.
Similarly, dish up gluten-free peanut butter cookies by mixing Quinoa Flour, baking soda, baking powder, sugar and brown sugar, vanilla extract and a little salt, then adding softened butter and room temperature peanut butter, an egg and a little milk, and blending until it's all mixed in. Roll dough balls in a little sugar and bake — but don't overbake! Peanut butter cookies are meant to be soft.
There's no place like home for the holidays
Finally, let's talk about pies. So many pie crust recipes call for all-purpose wheat flour. But the secret's out — you don't have to use it! LiveKuna offers three organic gluten-free flours that solve the problem.
That homemade pumpkin pie crust? It's better when it's made with Green Banana Flour. The traditional savory British Mincemeat pie, filled with a blend of dried fruits and spices? Try organic Plantain Flour. Pecan pie, with its notes of cinnamon and vanilla? Go with Quinoa Flour.
Holiday snacking can include all the flavors of the season and still be healthy. Remember to practice portion control — but don't let worries about your diet take away from the joys of sharing the holidays with your loved ones. With these snacks, everyone will be simply having a wonderful Christmastime. Especially the kids!