Gluten-Free Blackberry Coffee Cake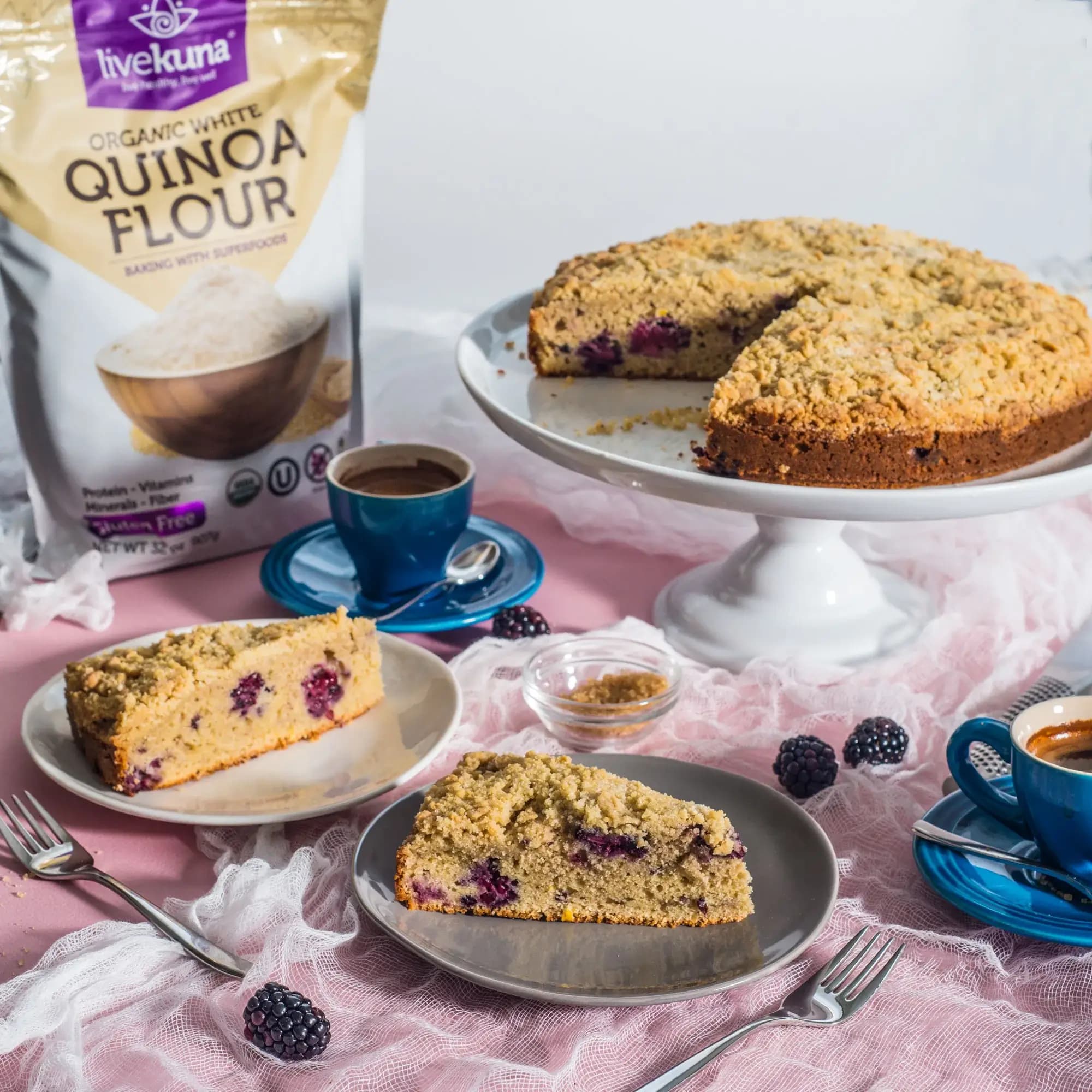 Ingredients
2 cups LiveKuna Organic Quinoa Flour
2 1/2 teaspoons baking powder
1/2 teaspoon salt
3/4 cup sugar
1/4 cup unsalted butter, softened
1/2 cup sour cream or Greek yogurt
1/4 cup whole milk
1 egg
Juice of 1/2 a lemon
Zest of 1 lemon
1/2 pint fresh or frozen blackberries, halved
For the Crumb Topping:
3/4 cup sugar
2/3 cup LiveKuna Organic Quinoa Flour
6 tablespoons unsalted butter, softened
For the Cake:
Preheat the oven to 350F.
Recipe
In a large mixing bowl sift the flour, baking powder, and salt together. Whisk to combine and set aside.
Using a hand mixer, cream the butter and sugar together until light and fluffy. Add the sour cream or yogurt, milk, egg, lemon juice and zest to the bowl and mix until creamy.
Slowly integrate the dry ingredients into the wet until loose batter forms. Finally, fold the blackberries into the batter using a wooden spoon.
Pour the finished batter into a greased 9-inch springform pan. Set aside to prepare the crumb topping.
For the Crumb:
In a large bowl sift and whisk the flour and sugar together. Using a pastry cutter, integrate the butter into the dry mixture until a crumb forms. Don't over-mix.
Sprinkle the crumb mixture over the cake batter and bake the cake for 45 minutes or until set in the center. Let the cake sit for 15 minutes before releasing from the pan. Transfer the cake to a cooling rack to cool completely.
Serve with coffee.